JAMAICA PREMIER LEAGUE
KINGSTON, JAMAICA
Monday, July 25, 2021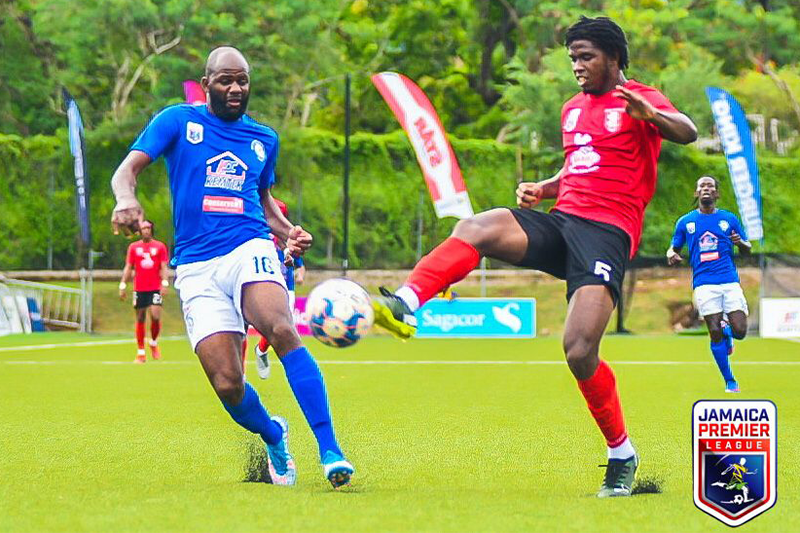 A Kesslon Hall header gave Mount Pleasant FA a hard-fought 1-0 win over Arnett Gardens in the second game of the Jamaica Premier League doubleheader at the UWI-JFF Captain Horace Burrell Centre of Excellence.

Hall netted in the 79th minute after Daniel Green collected a short corner and picked him out at the back post and he headed past goalkeeper Amal Knight. It was a goal straight from the training ground.

It was a tame uneventful game heading for a draw but the hard-working Hall had other ideas and snatched victory late on.

In the 16th minute, referee Christopher Mason awarded a penalty to Mount Pleasant but just before Francois Swaby took the spot-kick, Mason consulted with his fourth official, and the penalty was overturned prompting a wry smile from Swaby.

But Mount Pleasant's substitute Devonte Campbell could have added his name on the score sheet but he kicked wide after a surging run from the half-line.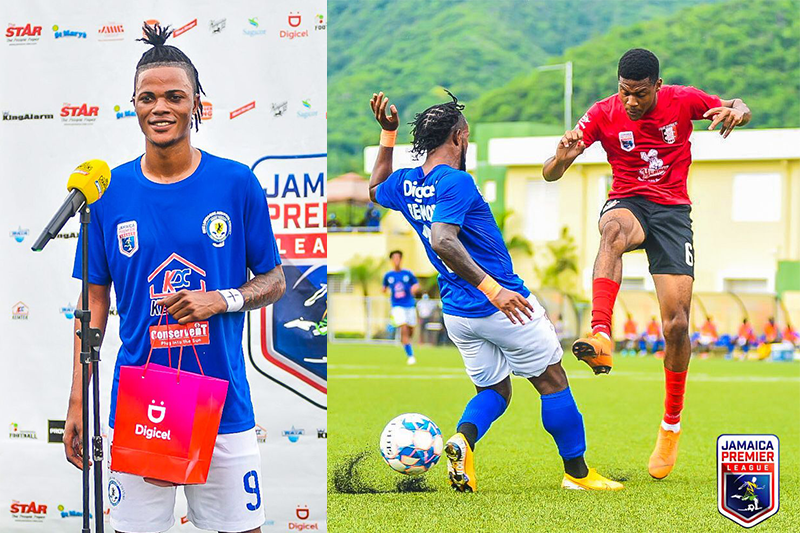 It was a game of few chances and excitement but in the end, a deserved victory for the St Ann-based Mount Pleasant as they pushed towards the playoff with five regular-season games remaining.

Mount Pleasant jumped from seventh to fourth spot on eight points and are four points adrift of the leader Portmore United.

Former champions Arnett Gardens from their four games are on three points in ninth spot following their third defeat of the season.

But with a game in hand, they are three points off a top-six playoff position and coach Alex Thomas pointed out there is still hope.

"I am disappointed with the performance, yes but hats off to the players as they continue to work hard. We just need to keep working and we will get it right," said Thomas.

Meanwhile, Mount Pleasant's coach Walter Downes was pleased with his team's positive start to the game despite not scoring earlier.

"I was pleased with the start as we should have gotten a penalty and got a couple of good chances in the first half. But it can't get better than a clean sheet," he pointed out.

Man-of-the-Match: Daniel Green (Mount Pleasant)

Teams
Mount Pleasant: 56-Akel Clarke, 03-Ladale Richie, 04-Alwayne Harvey, 12-Latroy Laing (09-Daniel Green 47th), 23-Prince Christie, 29-Tajay Anderson, 05-Leonard Rankine (32-Gary Mills73rd), 14-Sue-Lae McCalla, 10-Kemar Beckford (08-Jourdaine Fletcher 65th), 11- Kesslon Hall, 16-Francios Swaby (07-Devonte Campbell 65th).
Subs not used: 55-Michael McKenzie, 18-Kevin Graham, 25-Sherman Goulbourne, 33-Ricardo Gaynor.
Coach: Wally Downes
Booked: Ladale Richie 57th, Alwayne Harvey 67th

Arnett Gardens: 55-Amal Knight, 03-Oshane Roberts, 04-Ezran Simpson Jnr, 08-Marlon Martin, 16-Romeo Guthrie, 19-Luca Kung (16-Rushike Kelson 88th), 05-Jonoy Cunningham, 32-Earl Simpson, 07-Renaldo Cephas, 27-Steve Clarke (24-Damari Deacon 76th), 31-Donovan Segree (09-Hardley Barnes 53rd).
Subs not used: 40-Shaquan Davis, 11-Shemar Boothe, 22-Kemoy Slowley, 28-Dashawn Bernard.
Coach: Alex Thomas
Booked: Oshane Roberts 21st, Hardley Barnes 72nd

Referee: Christopher Mason
Assistant Referee 1: Damion Williams
Assistant Referee 2: Kioney Denton
Fourth Official: Andrew Hayden
Match Commissioner: Dudley Powell
---
For more information contact JPL @ jplcomms@gmail.com